Labour Market Information Systems (LMIS)
What is LMIS and how we can help
The identification of labour market issues critically rests on the availability of data, information and analysis. Labour market information systems (LMIS) provide an essential basis for employment and labour policies, and inform the design, implementation, monitoring and evaluation of policies that are better focused and targeted. LMIS also contribute to a reduction in the transaction costs of labour markets as they help overcome incomplete information of labour market agents.
Most countries are committed to the development of labour market information systems. However, particularly in developing economies, the functioning of LMIS, if such systems have been established at all, is hampered by various constraints, including data limitations. Data limitations affect not only complex issues such as informality and employment protection, but also labour market indicators that in most developed economies are available on a monthly or quarterly basis, such as employment and unemployment indicators. Data limitations are related in developing economies to constraints such as resource scarcity, limited analytical capacity and structural factors. Furthermore, labour market institutions, including workers' and employers' organizations, are weak in many economies, which hampers the development and use of mechanisms to feed information and analysis into decision-making. Such problems may lead to ill-informed policy formulation and inadequate monitoring, hindering efforts to achieve labour market and development objectives.
We can provide a solution for storage and dissemination of LMIS indicators with .Stat.  This powerful platform is available for member States implementing LMIS through an agreement between ILO and OECD and the Statistical Information Systems – Collaboration Community (SIS-CC).
Institutional arrangements are needed for the LMIS to effectively perform its analytical function, for example by providing access to data (from statistical agencies, administrative bodies and other entities), but also to allow for the effective dissemination of information and analysis. An example of a straightforward institutional arrangement is the establishment of an LMIA Advisory Panel, joining policy-makers, the statistical agency and workers' and employers' organizations.
High quality product: .Stat is one of the most advanced statistical information systems' platform currently used in the official statistics community.
Affordable investment: Under the "umbrella" of ILO's membership to the SIS-CC, a country implementing a LMIS can use the product and receive first level support and free upgrades. The only investment required to the country are the expenses associated to the deployment of the platform and training on .Stat administration and data/metadata management.
Community values: The SIS-CC promotes a series of values that are aligned with ILO principles, like partnership (collaboration rather than a vendor/client relationship), transparency (information openly and transparently shared among members), commitment (to respecting the coordinated work plans put in place), industrialisation (outputs developed according to best practices in application lifecycle management), and standards (foster and promote internationally-defined standards, such as SDMX, GSBPM, GSIM, and CSPA).
Sustainability: The collaborative approach for development, and the number of institutions using the software minimize the risk of support or further development being interrupted, an inconvenient situation that unfortunately is quite common when contracting external developers.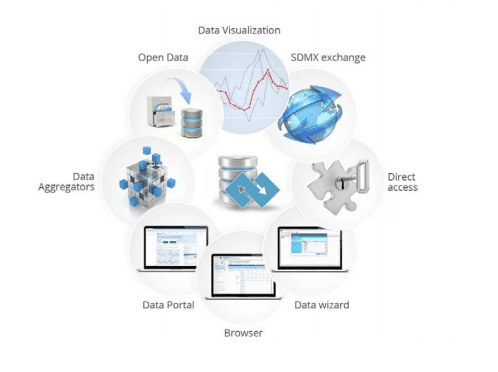 A web based application to process and load data into the Data Warehouse. Data can be in csv, .txt, .xml or sdmx* format.
Based on Microsoft SQL server and a standard star schema data warehouse technology.
A single exit point serves all outputs from the Data Warehouse exposing the data to several dissemination tools through a set of Web services.
.Stat allows for the extracting of data to various analytical tools for further data analysis.